UX Research, User Interviews, Wire-framing, 
Rapid Prototyping, 
High Fidelity Wireframes and prototype
Sketch, Keynote, Invision
Working in retail can be difficult. Especially as a manager who is in charge of training employees, dealing with customers as well as making sure sale goals are being hit. Customer service is directly related to sales and the overall store's performance. It's the manager's job to make sure customer's have a pleasant experience encouraging them to return and increase sales.
RaterBee

is a digital tool that allows retail customers to rate their satisfaction with employees while shopping in store. 
This gives managers the ability to individualize associate training and coaching to boost sales and customer satisfaction. Our team was tasked to create a user centered interface for managers to view this steady stream of data that would allow them to help ti improve customer service and increase sales. 
​​​​​​​
Understanding the Problem
During our kick off meeting, we learned more about how managers were currently getting the data from their customer's surveys. This data is given to managers in weekly spreadsheets. 
​​​​​​​
Managers need a way to use customer feedback so that they can take actionable approaches to making the shopping experience as efficient 
and enjoyable as possible. 
Managers are currently frustrated by the amount of spreadsheets they need to view in order to get the information they need.
As a team, we worked on domain research so that we could gain an understanding about the industry, h

ow important customer feedback is and how it affects sales. 
A moderate increase in Customer Experience generates an average revenue increase of $823 million over three years for a company with $1 billion in annual revenues.
" More than half of Americans have scrapped a planned purchase or transaction because of bad service. "
What we found:
U.S. companies lose more than $62 billion annually due to poor customer service. After one negative experience,

51% of customers will never do business with that company again.
What does this tell us?

Managers need this information to tackle bad customer service and improve where they can in order to keep loyal customers. If they don't take action on bad customer service the company will suffer.
What we found: 
We saw other companies who were already established in this industry including: Peakon, Medallia and Honestly.
What we saw:

Most of the competitors were using 
card layouts, charts, top performing employees, and overview cards

containing most relevant information
What does this tell us?

Managers need their information quickly and prefer easy visuals to display data rather than spreadsheets or busy screens. We need to design based on their busy days and make their job easier.
Understanding our user's needs
Our client provided users to interview to get a better sense of what our user's need. However, they 

were not ideal

for our user interviews. These users had previously worked as retail managers but are now working in higher management roles.
We quickly regrouped and updated our interview questions to be more appropriate to upper management roles. This was good for further down the line and to get a sense of what upper management wants to see.
• Managers focus on the

team's improvement

rather than the individual's improvement
• 

Coaching

seemed to be used more than "training"
•

Performance benchmarks matter

, having a baseline of "good" performance among associates, employees, and individual retail locations allows for more effective grading of the store experiences and associates.
•

Specific feedback

is much more helpful than just a rating system as it allows those who are higher up in the company to really understand what is going wrong or right and take action from there.
•

Different levels of management need different levels of information

. Store managers want speed but corporate managers need month to month information. 
"Spreadsheets lead to analysis paralysis because it's up to them to currently interpret the CSV" - User
"Training is not always needed, sometimes simple coaching or informing person of feedback elicits the change" - User
"Information needs to be easy to understand on the internal side because not everyone reads or learns the same"
-Bare Minerals Regional Manager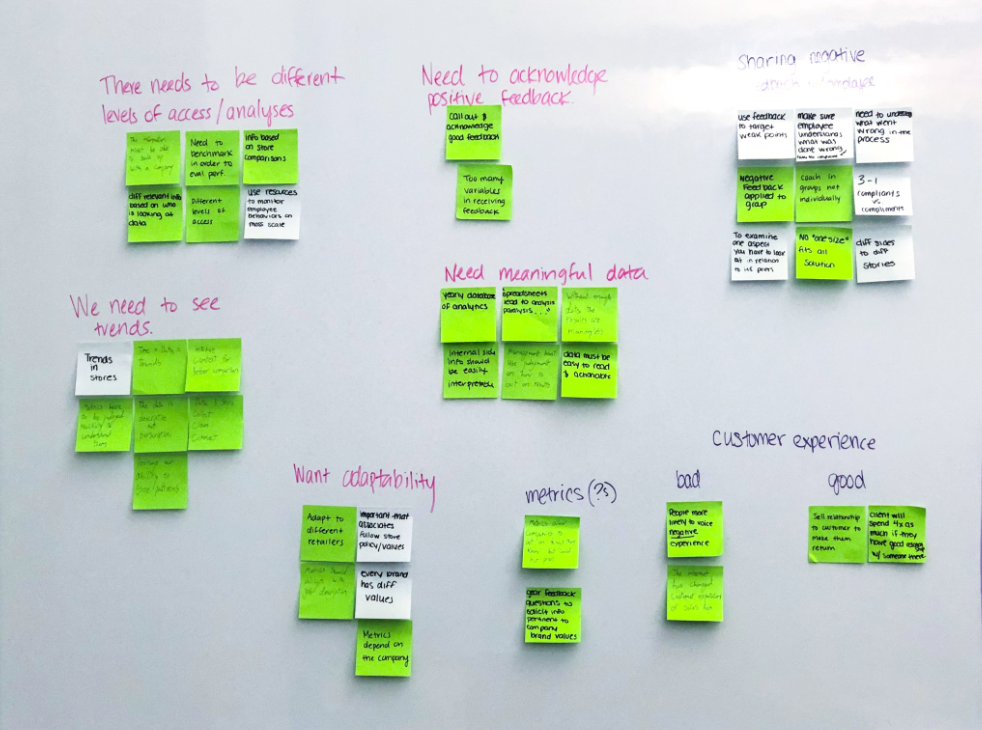 After conducting research and interviewing our users, I created
two personas as I
 realized that

this solution could be for two users

. 
These two personas represent our two users including a store manager and a regional 
manager. These two users have different motives when accessing company data 
and want to see different metrics and information.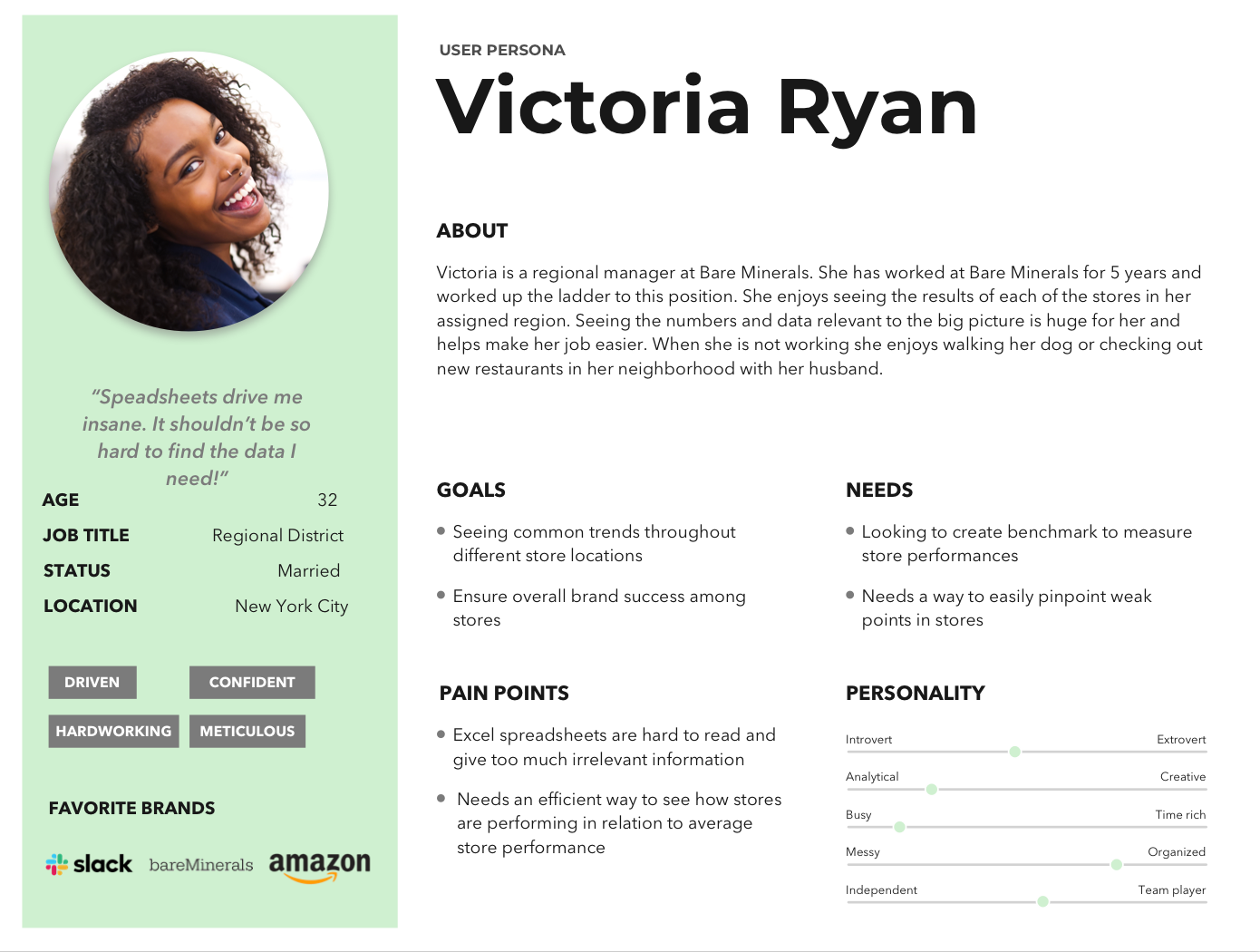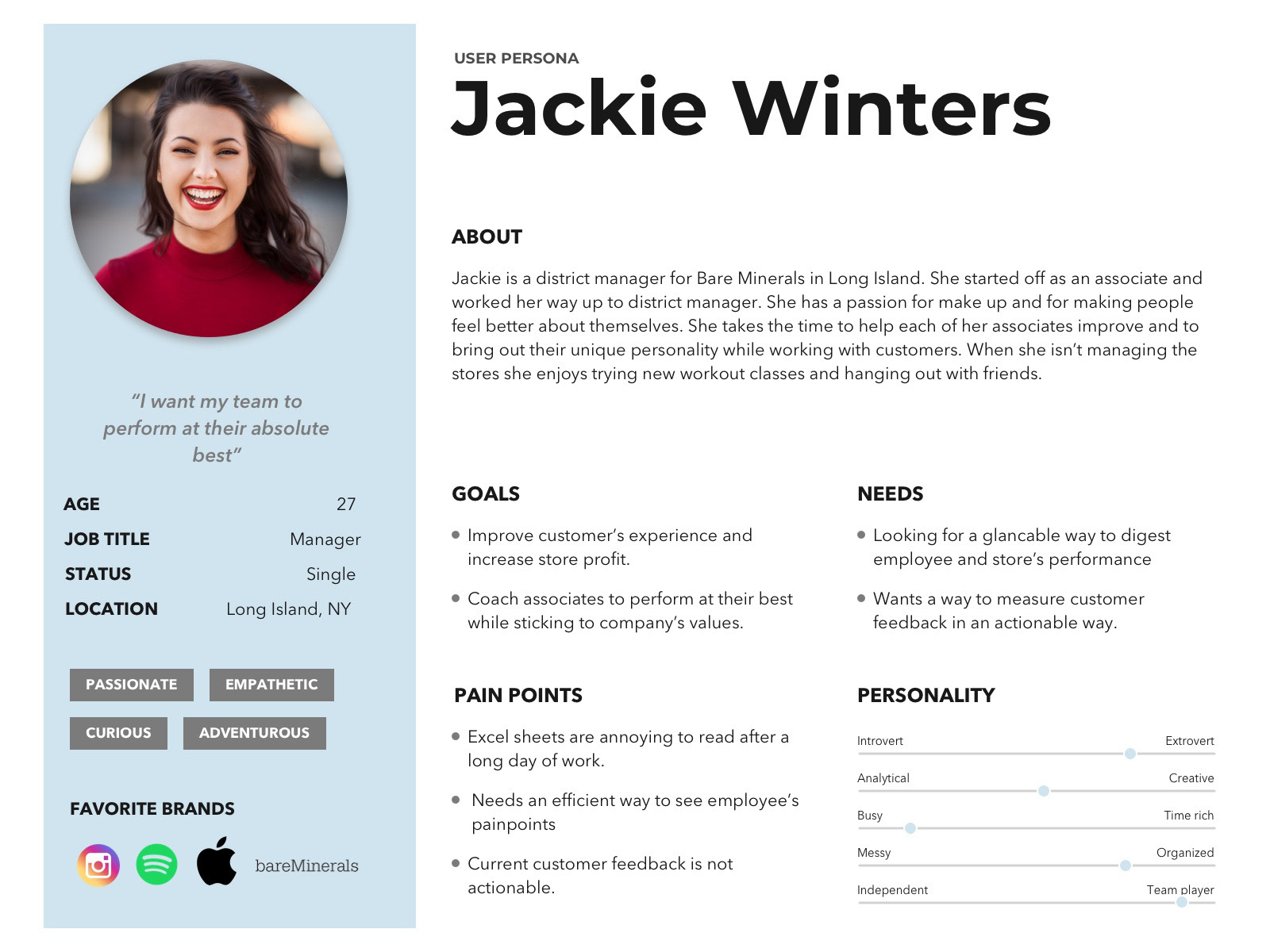 As a team we decided to time-box ourselves for 10 minutes to develop concepts for our solution. 
Once we started the ideation phase I had a tough time trying to break away from the standard dashb

oard layout we had seen while conducting domain research and competitive analysis. However, after a few rounds of concept design and talking with my team we decided to focus on more of the features we would implement in our solution.
What was challenging:

Our client seemed to already know what he wanted the solution to be- a dashboard. 
I developed features that would be displayed on the Today page and elements that a manager would use throughout the day. I focused on adding a team element that would show who is working on that day/shift.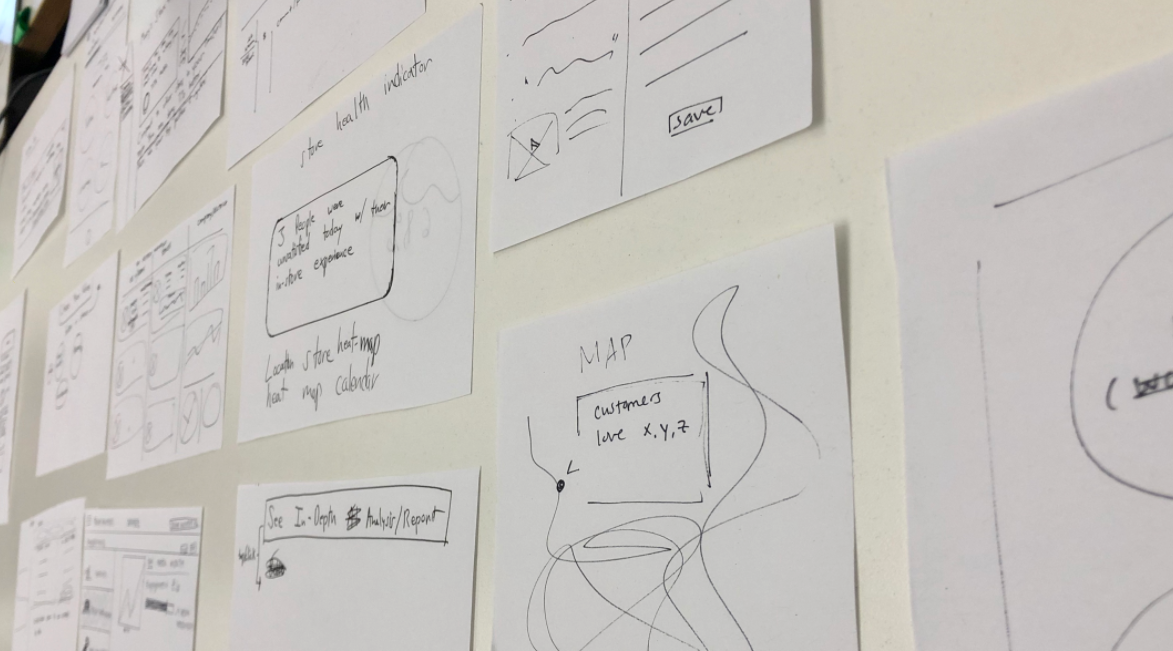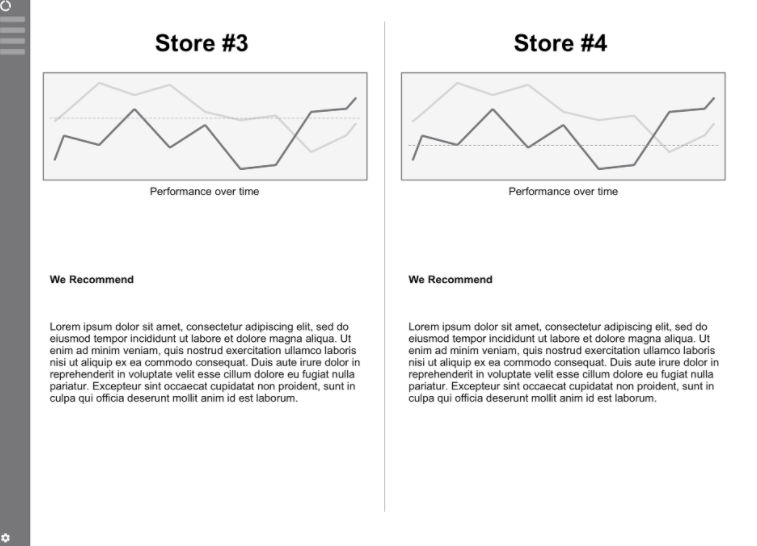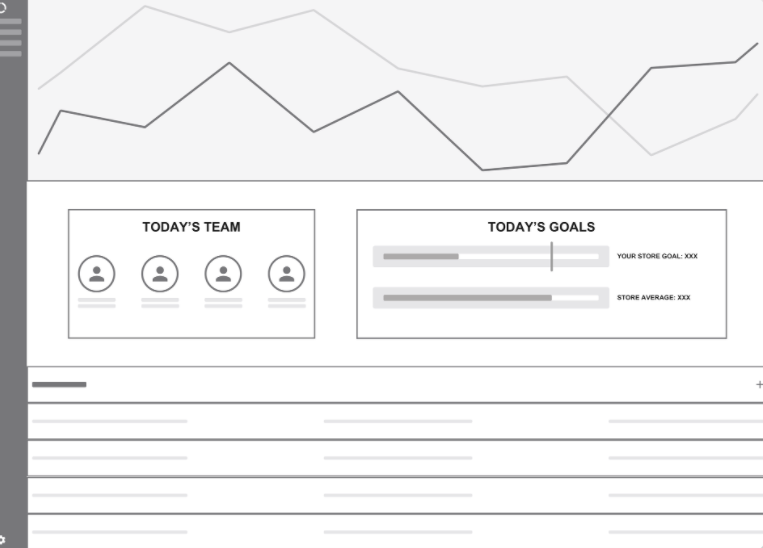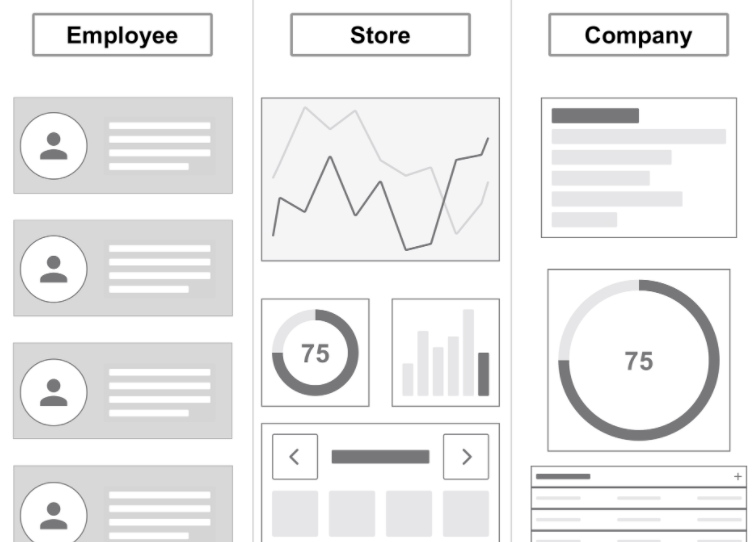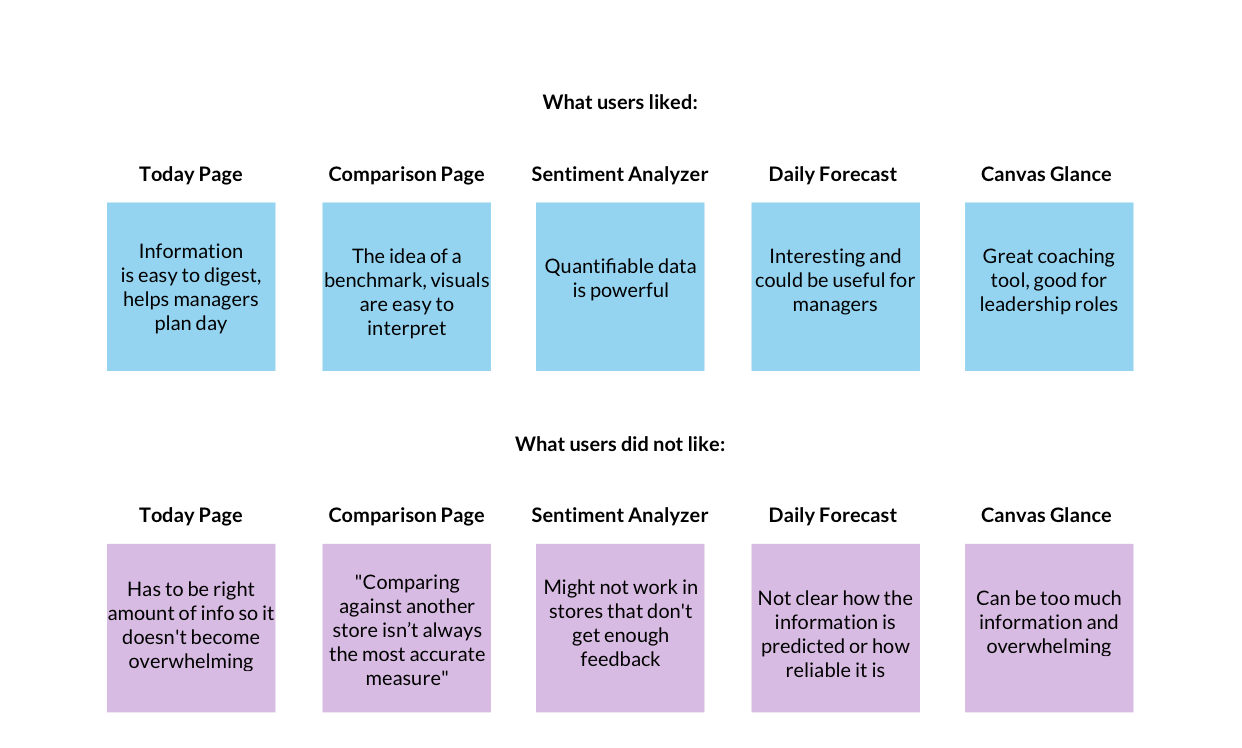 As a team we split up the screens for the wire-framing phase. 

I focused on the today page. In the first version of the today page it displayed four sections: Today's Team, Today's Goals, Real Time Feedback and News & Promos.

Using what I learned in our competitive analysis, I formatted this in a card layout with minimal visuals to make for less distraction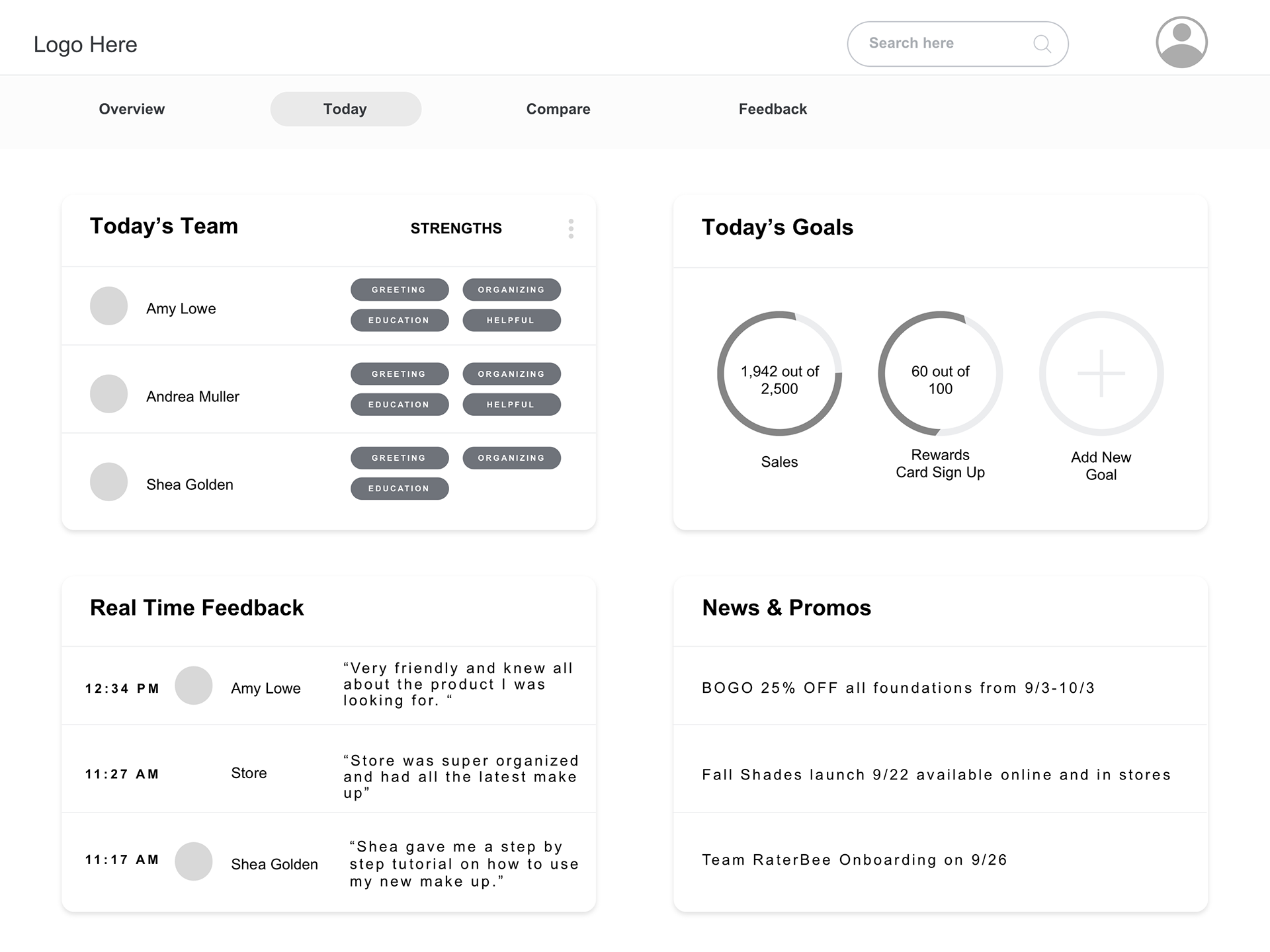 I contacted retail and restaurant managers for our usability testing. Users really enjoyed the Today page and I found I only had a few minor changes to make. I asked users to add a goal, expand on an employee's page and to locate the most recent feedback. Now let's get to those changes I had to make.
After conducting our usability testing we found that many users didn't see the use of news & promos section. They felt it was out of place and not necessary. So for the iteration of this wireframe I removed that and expanded the real time feedback section.
We also received feedback that users wanted to see

more information on their employees

and their specific feedback, strengths and other details. After talking with the team to see how we could implement this in the solution I created an Employee page.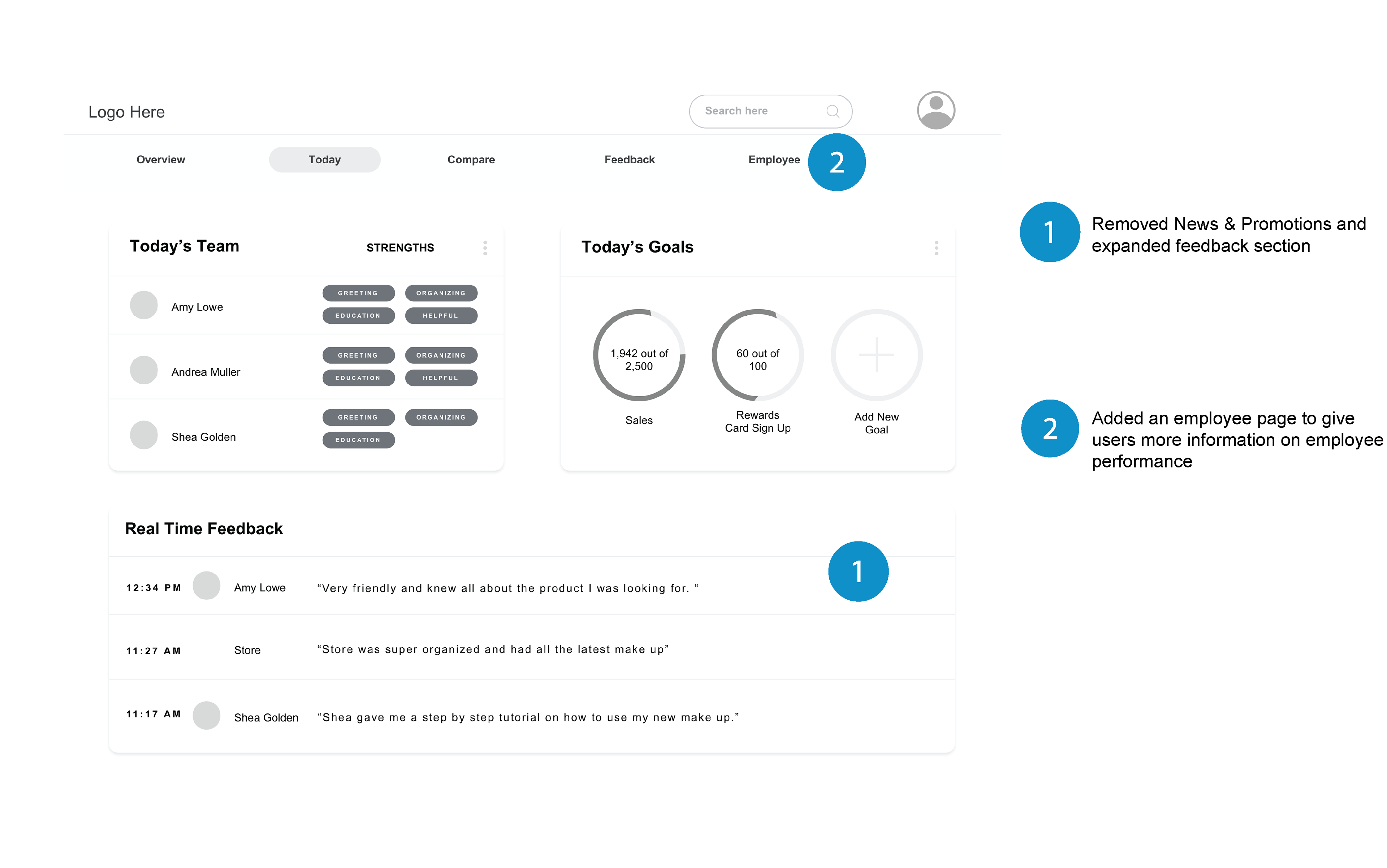 This employee page is accessible from the top navigation and breaks down each employee with their specific customer feedback data and general information.
*Further testing needed on this page*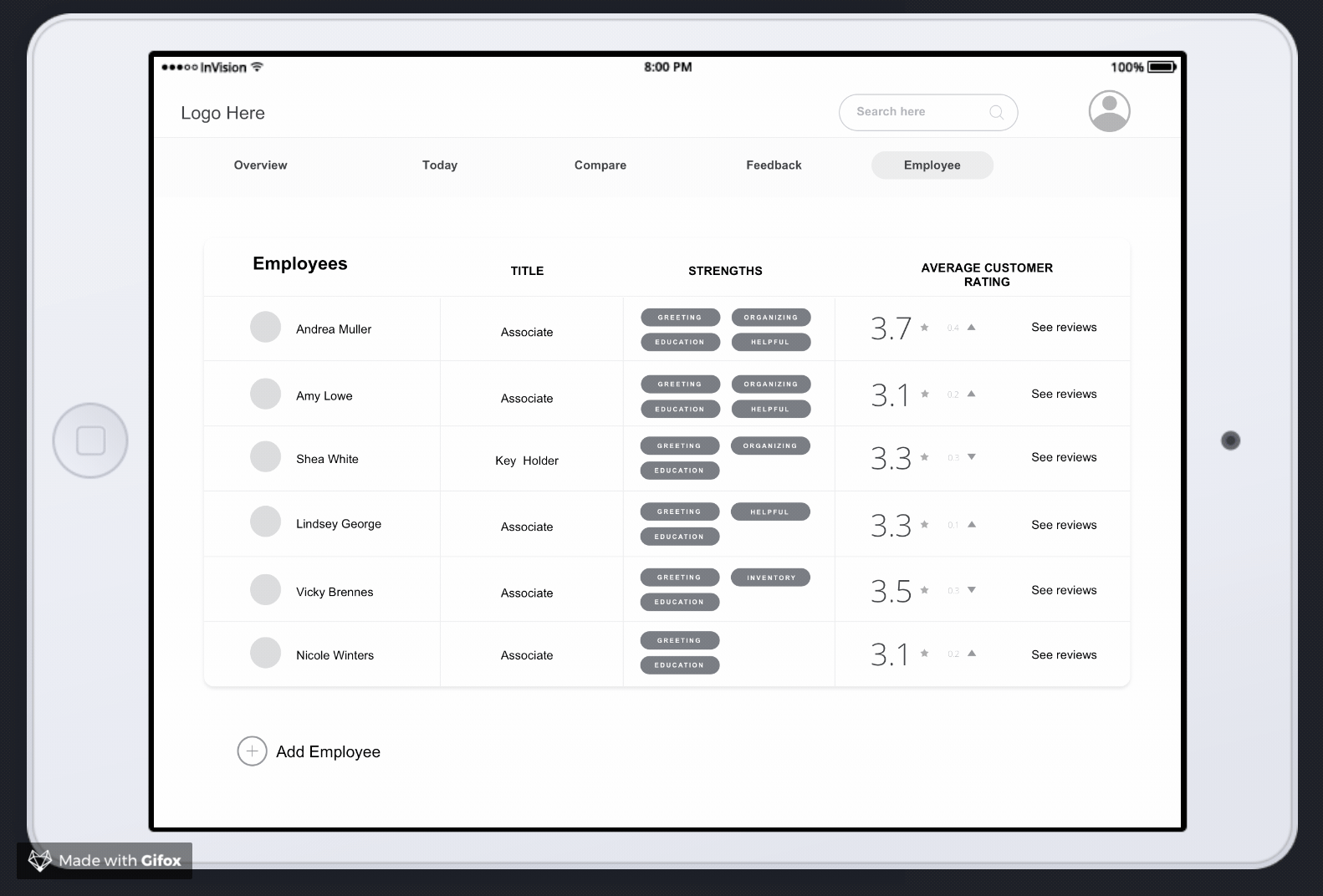 My team and I handed off our wireframes and I created our prototype in Invision for the 5 main pages: Overview, Today, Compare, Feedback and Employee page.
Due to time constraints we did not have time to create hi fidelity mock ups. After the project I went ahead and worked on the files to create a high fidelity prototype.
Feel free to click through my high fidelity prototype
here

.
Due to time constraints we were only able to iterate our wireframes and prototype once. Our next steps in this project would be to:
• Test our updated prototype with the appropriate users.
• Add an archive of goals so users can see their goal history.
• Integrate social media with the sentiment analyzer page.